The Clock Tower Restaurant, Derby
The Clock Tower Restaurant offers a wide range of foods from hot cooked breakfasts to traditional lunches including a carvery with locally sourced meats seven days a week.
Hot specials are served from 12pm until 2.30pm as well as freshly made baguettes and sandwiches, salads, homemade delicatessen products, jacket potatoes and paninis to name a few!
Homemade soup is prepared daily and our pastry chef offers a wide range of pastries, gateaux and cheesecake that will tempt you to return to our assisted service counters each visit!
Our children's play area has also recently been refurbished and features interactive screens and games that are bespoke to Blue Diamond Garden Centres.
We also cater for Gluten Free and can meet dietary needs on request.
Contact Details
Address: Derby Garden Centre, Alfreton Road, Little Eaton, Derby, Derbyshire DE21 5DB
Tel: 01332 831 666
Fax: 01332 832 666
To submit a query, please CLICK HERE
Opening Times
Monday - Saturday: 9am - 5.00pm
Sunday: 10am - 4.30pm
Facilities
Children's Play Area
From springtime and throughout the summer, we have a non-smoking outside seating area available
Manager
Paul Jordan
Restaurant Manager
Garden Centre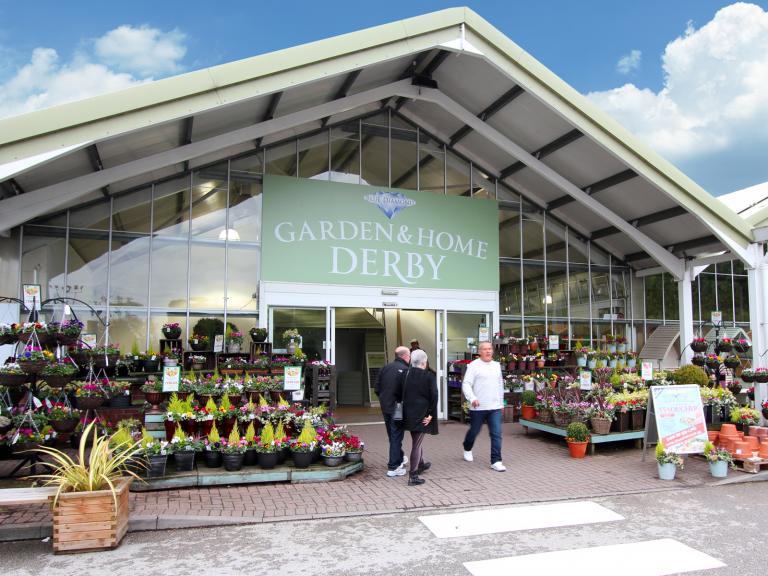 Derby Garden Centre is near the vibrant and cosmopolitan city, with its cutting edge culture and entertainment. It also sits on the boundary of the beautiful Peak District. Derby is literally in the centre of the UK so the Garden Centre is easy to reach from any direction. Newly refurbished since it was acquired by Blue Diamond Group, the Centre is now a perfect environment for everything for the home and garden including a wide range of furniture, indoor gift ideas, gardening essentials and outdoor plants. In addition, The Clocktower Restaurant makes an ideal setting for afternoon…
Find Out More