As summer draws to a close, there are many signs that nature is already gearing up for the next season -

and what a spectacular season it is!
Autumn is nature's last huraah before the cold, bleak winter months, and it celebrates in a blaze of golden glory.
In association with the National Trust, here is our complete guide to autumn!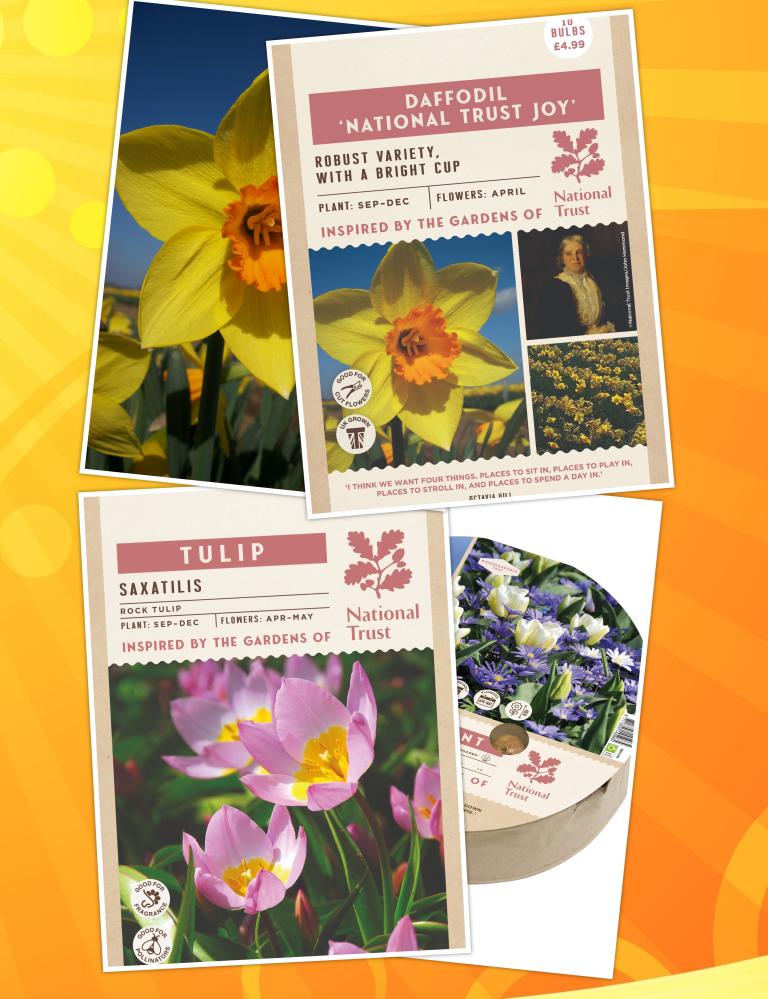 Autumn is the perfect time to plant spring flowering bulbs
Now is the perfect time to start planting spring bulbs such as snowdrops, crocus, metre high Crown Imperialis , daffodils and narcissus. One great idea is to arrange your bulbs in distinct layers when planting in tubs and containers. This way you will create 'lasagne-type' layering (Link: Instagram) and will ensure the bulbs bloom at different times, giving you a longer period of colour.
National Trust Spring Bulb Range
Blue Diamond has increased its portfolio of National Trust inspired flowering spring bulbs by working closely with the Trust and their gardeners. The resulting range reflects the beauty of the Trust's gardens and the tried and tested secrets of its gardening experts. New to the range is a naturalising collection of spring flowering bulbs which includes daffodils, crocus and tulips. 'Naturalising', refers to the informal planting of bulbs and other plants in grass as opposed to in borders.
New and Exclusive Bulbs
This year we have also introduced three new and exclusive bulbs into our range. The gardens at Dyrham Park and inspirational figures involved with the National Trust, including the Co-founder Octavia Hill and the famous poet Wordsworth who lived at Wordsworth House have formed the basis of the new range. We also have colour themed bulb collections inspired by the gardens at Sissinghurst, Osterley Park, and Belton House. The bulbs have been carefully selected to complement each other in terms of variety, colour and height to suit your garden.
VIEW OUR BULB COLLECTION (BLUE DIAMOND)
National Trust Seed Collection
Inspiration has been taken from six National Trust historical gardens to form our exclusive 2023 Seed collection.
These gardens are Bodnant, Hidcote, Lanhydrock, Nymans, Calke Abbey and Sissinghurst and the collections are now available to buy instore and online.
Through sales generated from the National Trust Collection by Blue Diamond, a minimum of 10% of the retail sales price per product will be given to the National Trust to help look after nature, beauty and history for everyone, for ever.
VIEW COLLECTION (BLUE DIAMOND)
National Trust Rose Collection
The National Trust Rose Collection by Blue Diamond includes roses that are inspired by or named after properties and gardens now cared for by the National Trust. These roses include the new and exclusive rosa Mottisfont, rosa Octavia Hill, named after one of the co-founders of the National Trust, along with rosa Biddulph Grange, Tatton and not forgetting rosa National Trust.
These roses are available to order online as a bare root rose or to buy as potted roses in all Blue Diamond Garden Centres by clicking the button below.
Click here to find out more about bare root roses (Link: Fryer's Roses)
When purchasing our National Trust Rose collection varieties, not only will you be enhancing your gardens appearance but you will also be contributing to our nation's historical sites. Blue Diamond will give 10% of the retail selling price to the National Trust to help look after nature, beauty and history for everyone, for ever.
VIEW OUR ROSE COLLECTION (BLUE DIAMOND)
Plant a tree and save the planet!
September is a great time to plant trees. Trees reduce harmful toxins in the air and give back clean oxygen. They provide essential natural habitats for wildlife and create shade and statement features in our outside spaces.
Growing hedgerows is also a great way to assist nature in our gardens as they provide safe passage from one area to another and the berries, flowers and nuts are a fundamental food source. Hedgerows are sadly in decline resulting in less places for our wildlife to find shelter.
National Trust Tree and Hedgerow Collection
As part of the collaboration with the National Trust, Blue Diamond has introduced a range of trees and hedgerows, which include some of the unsung heroes of the tree world. Trees and hedgerows are nature's highways and are essential for providing wildlife with places to nest and feed.
Our trees and hedgerows are grown in peat free compost and potted in kerbside recyclable pots and are available in all Blue Diamond Garden Centres or online by clicking below.
The National Trust is also playing a huge part with its own comprehensive tree planting campaign and plans to plant 20 million trees by 2030. See more by clicking below.
VIEW OUR TREE & HEDGEROW COLLECTION (BLUE DIAMOND)
Jobs in the garden this autumn
Early autumn is all about harvesting fruit and vegetables, whether it's foraging for blackberries in the hedgerows (surely nothing can beat a homemade apple and blackberry crumble) or securing a perfect pumpkin ready for Halloween (bowl of warming soup on Bonfire Night anyone?).
As the leaves start turning their multi-faceted hues of orange, red, yellow and brown it is time to prepare the garden for winter. These are the autumn gardening jobs we would recommend, to ensure that you get your garden looking its best through those dark days and long nights.
Jobs include:
Harvesting
Winter protection
GARDENING TIPS FOR AUTUMN (NATIONAL TRUST)
Caring for Wildlife
We aren't the only ones who enjoy our gardens, in fact there's a plethora of wildlife that uses the space for shelter, food, drink and bathing. With an estimated 24 million gardens in the UK, this provides a huge amount of space and opportunity to support wildlife and have a positive impact on the natural world.
During autumn, avoid tidying up your garden too much, instead leave things to go a bit wild. For example, leaving decaying plants, leaves, stems and seed heads in a section of the garden can offer shelter for insects and other small creatures.
Insects and small mammals will be drawn to these areas as a place to access food and protection. Avoid disturbing leaf piles and log piles because they could be temporary homes for hibernating hedgehogs and toads.
Bees are still buzzing about during autumn, so it's always ideal to have a selection of flowering plants that are rich in nectar or pollen all year-round. For instance, the solitary Ivy Bee, which was first spotted in the UK in 2001, are often seen in autumn. Their appearance coincides with the flowering and fruiting of the ivy which provides them with food, giving our flying friends an energy boost.
Birds to spot through the seasons (National Trust)
Create a bug hotel
A bug hotel is a structure designed to encourage bugs and insects to shelter in and provide them with nesting areas and protection. It only needs to be a simple structure or be as creative as you like in your design; even a simple pile of leaves can suffice.
Perhaps incorporate a bird table or bird feeder too to encourage more of our feathered friends to the garden.
A bird bath, pond or even a simple water feature such as a shallow dish sunk into the ground is also beneficial as it can provide birds a place to bathe and wildlife a place to drink. Make sure you add a rock or small branch at the edge to enable creatures safe entry and exit.
CREATE A BUG HOTEL (BLUE DIAMOND)
Autumn activities for children
Want to keep the kids out in the fresh air as long as you can this autumn? You'll need to think of some creative projects so they can get their hands dirty in the great outdoors.
Research has shown that exposure to good bacteria in the natural environment can support children's immune systems and that gardens can play a pivotal role in helping young people develop.
Become a pomologist - Pomology is the study of fruit and its cultivation, and there is plenty to study in gardens and wild spaces in every corner of the country.
Plant spring flowering bulbs - Put in the hard work now and you will feel the benefits next year.
Make an origami seed packet - Recycle a page from an old magazine or use some sheets of scrap paper to make a useful pouch.
Make a wildflower piñata - papier-mâché around a balloon filled with seeds makes a perfect piñata that you can decorate any way you like.
Create art from the garden - Use autumn leaves, stones, twigs, branches, plant fruits, flowers and anything else you can find this autumn to create wonderful natural art to share.
THINGS TO DO WITH KIDS (NATIONAL TRUST)
Calling all leaf crunchers...
Our lovely friends at the National Trust have created an autumn with a crunch this year.
Take a stroll surrounded by colour, spot wildlife and connect with nature when you escape into autumn. Experience the awe of the season at places in the care of the trust, by claiming a free, single-use pass to use between 18 September and 20 October 2023.
How do you find your escape?
Is there a woodland you love to walk in, do you spot birds – or do you enjoy taking your friends and family somewhere new surrounded by nature? Autumn's a great time to get out and about, and we're giving away a select number of autumn passes so you can get free entry to a National Trust place of your choice.
Claim a free autumn pass
This single-use pass allows free entry for two adults and up to three children, one adult and up to four children, or two adults on their own.
GET YOUR FREE PASS NOW (NATIONAL TRUST)