Introducing... Alton Rudd
Baked Vanilla Cheesecake
A delicious dessert that makes one 30cm x 25cm tray and is suitable to keep in the freezer for up to one month.
Ingredients
Biscuit Base:
1/2 packet digestive biscuits, crushed
1/2 packet ginger nut biscuits, crushed
Clarified butter mixed into the biscuits to form a base
Filling:
245ml double cream
5 eggs
825g Philadelphia cream cheese
425g sugar
3ml Vanilla essence
Vanilla seeds of 1 vanilla pod
How to make!
Using an electric mixer with the beater attachment, mix together the sugar, vanilla and cream cheese until smooth and slightly thicken.
Gradually beat in the eggs and cream until the mix is of a smooth consistency.
Pour the mix over the prepared base and bake at 130°C, low fan for 35 minutes or until set.
Set aside to cool.
Once cooled, portion and garnish as desired.
Alton's Christmas Hazelnut Roulade
A wonderful gluten-free, hazelnut meringue roulade recipe to make in your own home. Consider it your Christmas present from Alton!
Ingredients
220g hazelnuts peeled
250g egg whites (about 8 eggs)
450g caster sugar
1L double cream
300g white chocolate
100g praline paste (can use Nutella)
How to make!
Toast whole hazelnuts until golden brown. Once cooled blitz the hazelnuts to a rough powder. (ensure not to over blitz as it will turn to a paste)

Using a whisk, whip the egg whites to soft peak, and slowly add the sugar until a firm meringue. (10min)

Fold in ground hazelnuts and divide onto two trays.

Bake @ 175-degree Celsius fan oven for 17 min.

Once baked, allow to cool, and turn onto paper (face down) on work surface ready for cream.

Whip the double cream till firm, divide into two bowls.

Mix the praline and melted white chocolate together, and fold into one batch of the cream. Evenly spread the plain cream on the meringue first, then spread the praline cream over. (to make it more festive sprinkle with griotine cherries or dried cranberries.)

Gently Roll from the long side ensuring the cream is not all pushed to the top.

Freeze/Chill and cut once set.
Alton's Oat & Raisin Cookies
Ingredients
325g unsalted Butter
190g caster Sugar
190g soft Brown Sugar
3 medium Eggs
460g plain Flour
3g salt
5g bicarbonate of Soda
3g ground Cinnamon
130g oats
260g raisins
3g vanilla Essence
How to make!
Beat together the butter, vanilla and sugar in a mixer until light and fluffy and slowly add the eggs one at a time.
Turn the speed to low and add all the dry ingredients and continue to mix until smooth.
Divide the mix into 3 even balls and roll each into a sausage shape about the size of a rolling pin.
Cut the roll into the size of biscuit you desire and shape into a ball, place on a baking tray and flatten slightly.
Bake at 175°C (fan oven) for about 14 minutes or until light brown.
Cool before serving.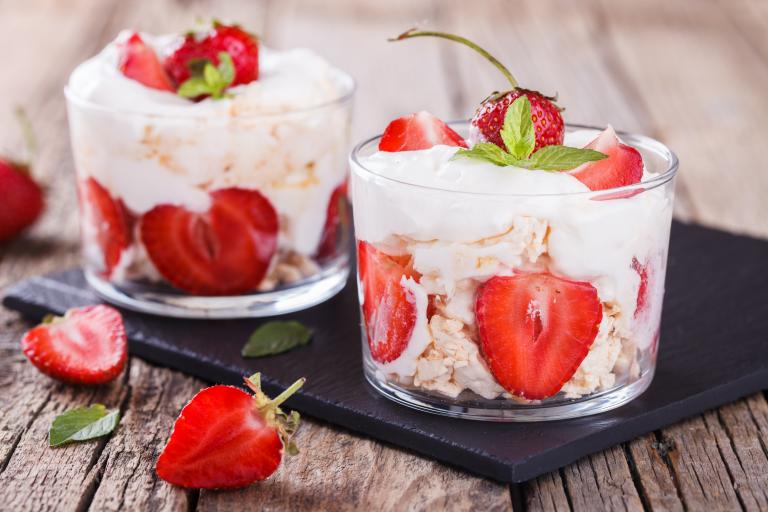 Alton's Strawberry and Basil Summer Eton Mess
A classic and refreshing dessert - perfect for summer entertaining.
Ingredients
1 punnet of strawberries
1 bunch of basil
Meringue (see recipe below)
Strawberry puree/coulis
Vanilla Chantilly cream (whipped cream, a bit of icing sugar and vanilla essence or vanilla seeds to taste)
For the Meringue
4 egg whites
120g caster sugar
For the Basil Syrup
400g caster sugar
100ml water
1 bunch of basil
How to make!
To Make the Meringue
In a stainless-steel bowl, whisk the egg whites and sugar over a low open gas flame. Ensure to keep whisking until the sugar is dissolved and the mix is warm.
Pour this into your electric mixing bowl and mix with the whisk attachment on high speed until the meringue is thick and white.
Pipe desired shapes with a star nozzle onto a lined baking tray.
In a pre-heated oven, bake at 130°C for 20 – 25 minutes and leave in the oven overnight to dry out. Do not open oven at anytime during this stage as all the heat needs to be kept within.
To Make the Basil Syrup
Bring sugar and water to a boil and simmer for 3-5min.
Using a stick blender, carefully blitz the syrup and add the basil whilst doing this (This will ensure the basil syrup is green and not brown). Pour syrup over fine sift and cool.
To Build the Eton Mess
Begin by cutting the tops off your strawberries and then cutting in half or quarters depending on size.
Place a few strawberries at the bottom of your glass and cover with your strawberry sauce.
Crush some meringue over this and drizzle some basil syrup around the glass.
Pipe Chantilly cream over the meringue and keep building depending on the size of the glass.
Garnish with a piece of meringue and a tip of basil.
Refer to the picture to help offer you a visual guidance.
Useful Tip: strawberry and basil work well as a marriage however basil can easily overpower the dish so ensure you do not use too much basil.