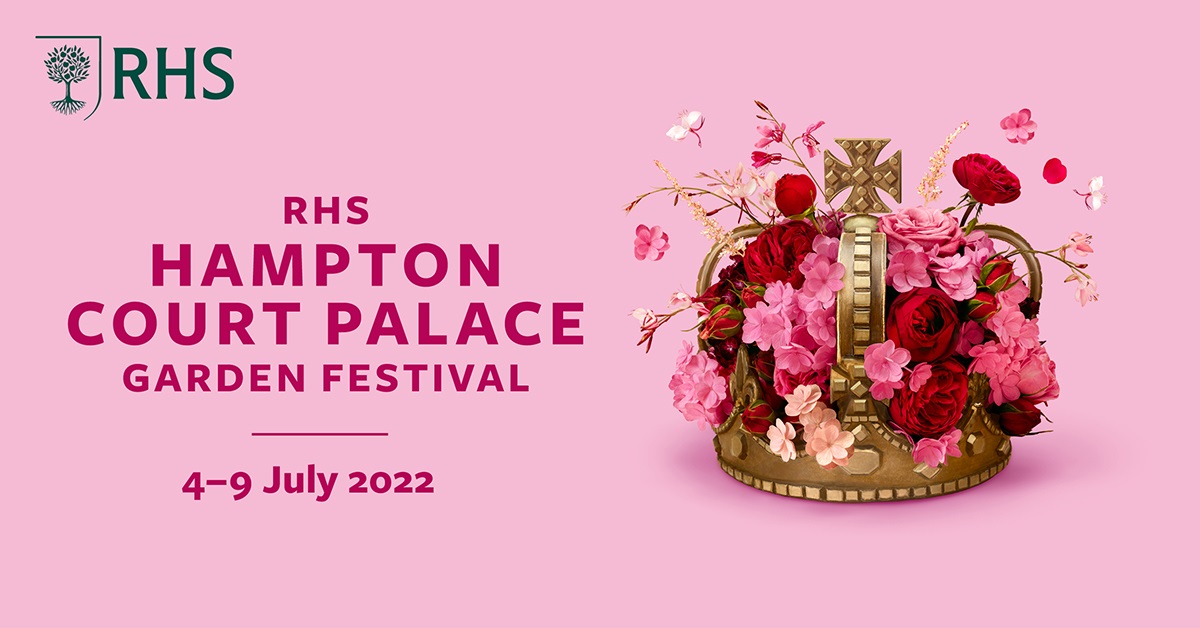 'Beautiful Abandonment' show garden
'Beautiful Abandonment' is a celebration of the wonder of nature and the beauty of abandoned buildings.
A wildlife friendly garden that focuses on taking a disused part of land and repurposing the structures left behind to create an outdoor living space especially suitable for a family.
An old farm building has left its mark in this garden, leaving behind a stone wall with original features, forming the backdrop to this repurposed space.
A bespoke pergola built from reclaimed oak, frames the family seating area, providing character, a sense of age and shade from the sun. The journey through
the garden allows visitors to discover different viewpoints of the naturalistic planting with unintentional pockets and the architectural forms of the trees, stone and wooden structure.

This garden is designed with sustainability in mind as we move away from a throwaway society, demonstrating how abandoned buildings or unused areas can be repurposed into functional and beautiful spaces.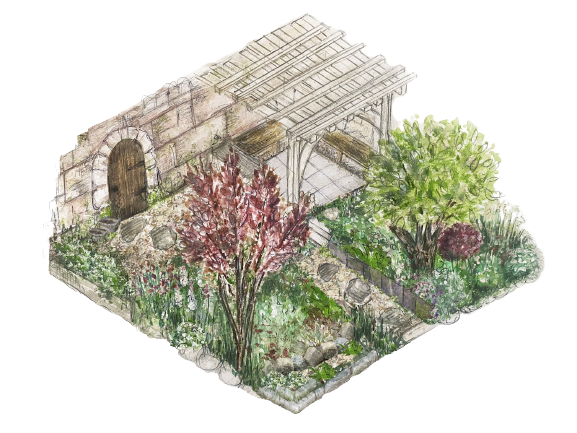 Wildlife-friendly planting is about making a haven for you as well as for the wildlife.
Our Beautiful Abandonment show garden includes a diversity of wild and cultivated plants to attract birds, insects and mammals. Whether your outdoor space is a new blank canvas, big or small, even the smallest changes can help provide valuable habitats for wildlife.
HERE ARE NINE BLUE DIAMOND TIPS ON HOW TO MAKE YOUR GARDEN A HAVEN FOR WILDLIFE:
• Include plants that attract pollinators.
• Plant flowering herbs such as lavenderand chives.
• Plant seasonal flowering plants to ensure there is a prolonged food source for wildlife all year round.
• Plant grasses, shrubs and trees to provide habitat and food for birds, bats and insects.
• Build a bug hotel – frogs, ladybirds and other insects will love it!
• Add a bird table, bird feeder or water feature.
• Create a mini meadow.
• Try companion planting as a way to help prevent pests and diseases.
• Use peat-free compost and soil enrichers which are an organic and nature-friendly way to keep your plants healthy.
Blue Diamond is proud to partner with the Soil Association, the charity joining forces with nature for a better future – a world with good health, in balance with nature, and a safe climate.
Working with everyone to transform the way we garden, eat, farm and care for our natural world, the Soil Association build real solutions from the ground up.
We research, campaign, and work with communities on the ground to learn, share, and grow better together.
Together we are a force for nature.
Find out more about our partnership at www.bluediamond.gg/soil-association
Beautiful Abandonment show garden plant list

Our nature inspired colour palette has been developed from the colours of country lane verges with lilacs, whites, greens, deep reds and soft pinks.
Grasses, flowering shrubs and perennials simulate a naturalistic look and a multi-purpose garden, providing a good food source and habitat for wildlife.
Left: Latin Plant Name Right: Common Plant Name
SHRUBS

Buxus sempervirens

Boxwood

Leucothoe 'Rainbow'

Dog Hobble

Physocarpus 'Lady in Red'

Ninebark

Sambucus 'Black Lace'

Elder
GRASSES

Calamagrostis x acutiflora 'Karl Foerster'

Feather Reed Grass

Festuca 'Intense Blue'

Blue Fescue

Molinia caerulea 'Variegata'

Variegated Purple Moor Grass

Molinia caerulea 'Edith Dudszus'

Purple Moor Grass

Pennisetum alopecuroides 'Hameln'

Chinese Fountain Grass

Stipa tenuissima

Mexican Feather Grass

Stipa calamagrostis

Rough Feather Grass

PERENNIALS

Actaea simplex 'Pink Spike'

Baneberry

Artemisia absinthium 'Lambrook Silver'

Wormwood

Astilbe 'Cappuccino'

Astilbe

Astilbe x arendsii 'Ellie'

Astilbe

Astilbe 'Colour Flash'

Astilbe

Astilbe 'Chocolate Shogun'

Astilbe

Astrantia 'Star of Beauty'

Masterwort

Astrantia 'Star of Love'

Masterwort

Astrantia 'Roma'

Masterwort

Astrantia 'Buckland'

Greater Masterwort

Erigeron karvinskianus 'Profusion'

Mexican Fleabane

Erigeron karvinskianus

Mexican Fleabane

Geranium 'Dreamland'

Cranesbill

Heuchera sanguinea

Coral bells

Heuchera 'Obsidian'

Coral Bells

Heuchera 'Black Taffeta'

Coral Bells

Pimpinella major 'Rosea'

Saxifrage

Sanguisorba officinalis 'Lum'

Burnet

Scabiosa caucasica 'Perfecta'

Scabious

Scabiosa caucasica 'Perfecta Alba'

Scabious

Tiarella 'Spring Symphony'

Foam Flower

Tulbaghia violacea

Society Garlic

Veronicastrum virginicum roseum

Culver's Root

HERBS

Mentha

Mint

Mentha x piperita

Black Peppermint

Thymus 'Silver Posie'

Thyme 'Silver Posie'

Thymus 'Golden King'

Thyme 'Golden King'

Thymus pulegioides

Broadleaf Thyme

Thymus citriodorus 'Variegata'

Lemon Variegated Thyme
FERNS

Asplenium trichomanes

Maidenhair Spleenwort

Athyrium filix-femina angustum rubellum 'Lady in Red'

Lady in Red Fern

Athyrium niponicum 'Metallicum'

Painted Lady Fern

Athyrium niponicum

Painted Fern

Blechnum spicant

Hard Fern

Dicksonia antarctica

Soft Tree Fern

Polystichum setiferum

Soft Shield Fern

Polypodium vulgare

Polypody Fern

TREES

Cercis canadensis 'Forest Pansy'

Redbud Tree

Osmanthus heterophyllus 'Purpureus'

Holly Olive Tree

Prunus 'Royal Burgundy'

Cherry Tree

Pyrus communis 'Conference'

Conference Pear

SUN & DROUGHT TOLERANT PLANTS

Asplenium trichomanes

Maidenhair Spleenwort

Centranthus ruber

Red Valerian

Erigeron karvinskianus

Mexican Fleabane

UNDERGROWTH & STONE PLANTS

Chenopodium album

Bacon Weed

Convolvulus arvensis

Bindweed

Digitaria

Finger Grass

Glechoma hederacea

Ground Ivy

Hedera helix

Climbing Ivy

Rumex acetosella

Sheep's Sorrel

Stellaria media

Common Chickweed

Trifolium repens

White Clover

Thymus

Thyme