Carriages Restaurant, Trelawney
Visit Carriages Restaurant where every appetite is catered for!
For breakfast, why not have a full English, treat yourself to some salmon and scrambled eggs, or some poached eggs with ham served on a muffin with hollandaise sauce. Or something simple and delicious - toast and homemade marmalade which is made with the pulp and skins from our juicer! Breakfast starts from £3.99 and is served from 9am - 11am.
Lunch including Trelawney's Carvery and chefs specials is served from 11.30am - 2.00pm daily. Have our chefs carve your meat and then help yourselves to a selection of local produce vegetables all from £8.99.
A range of snack foods, jacket potatoes, paninis, and sandwiches are available until 4pm.
We also have a Children's menu comprising of cooked meals for £3.99 or a lunch bag of any 6 items for £3.95.
if you're looking for something sweet, why not try our freshly baked scones, served with local clotted cream and jam to create the best "Cornish Cream Tea" around. Our chefs also bake a fine selection of cakes, Chocolate Brownies, Shortbread, doughnuts, muffins, carrot cake....the list is endless!
We also cater for Gluten Free and can meet dietary needs on request.
Mother's Day at Carriages Restaurant
Click here to view our special Mother's Day menu!
Contact Details
Address: Trewlawney Garden Centre, Sladesbridge, Wadebridge, Cornwall, PL27 6JA
Tel: 01208 893 030
To submit a query, please CLICK HERE
Opening Times
Monday - Saturday: 8.30am - 5pm
Sunday: 9am - 4pm
Manager
Helen Symons
Restaurant Manager
Garden Centre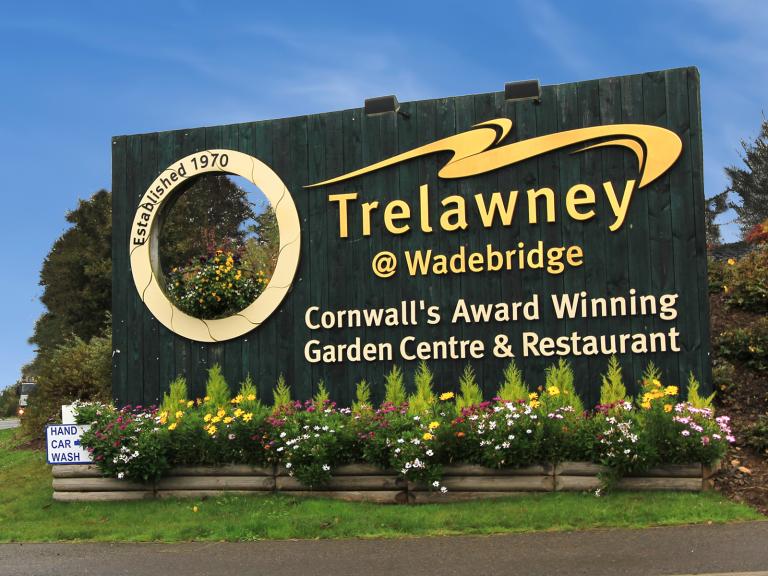 Trelawney Garden Centre, situated just outside Wadebridge on the A389, was founded in 1970 by Frank and Marion Danning as a small nursery supplying home grown fruit, vegetables and flowers from a roadside stall to local customers as they passed by. As time progressed, the business flourished and with the help of son David who joined straight from school and David Symons, who started working for the family at the age of 11, Trelawney Nurseries gradually became Trelawney Garden Centre as the range of goods stocked widened to provide for all gardening needs. The business which became renowned…
Find Out More