The Café at Fermoy's
A warm, friendly welcome awaits you at Fermoy's Café. So too, does a delicious selection of homemade cakes, gateaux, pavlovas, quiches and scones made locally or baked by our very own Chef.
Come before 11.30am and try a hearty home cooked Devon breakfast, delicious! Arrive at lunchtime and enjoy one of our Chef's Daily Choices (or a traditional roast if it's on a Sunday). Visit in the afternoon and be tempted by a heavenly Devonshire Cream Tea or you may simply want to relax over a speciality coffee and chat with family and friends – many do.
Whatever you choose you can be assured that we use only the best ingredients. Our meat is from Gerald David & Family, our onsite master butchers; it comes from locally reared and naturally fed animals. Our eggs are all free range and we use seasonal veg from local producers whenever we can.
The Café at Fermoy's; a great place to meet and greet!
We also cater for Gluten Free and can meet dietary needs on request.
Contact Details
Address: Fermoy's Garden Centre, Totnes Road, Ipplepen, Newton Abbot, Devon TQ12 5TN
Tel: 01803 813 504
Fax: 01803 813 842
To submit a query, please CLICK HERE
Opening Times
Monday - Saturday: 9am - 5pm
Sunday: 9.30am - 4pm
Garden Centre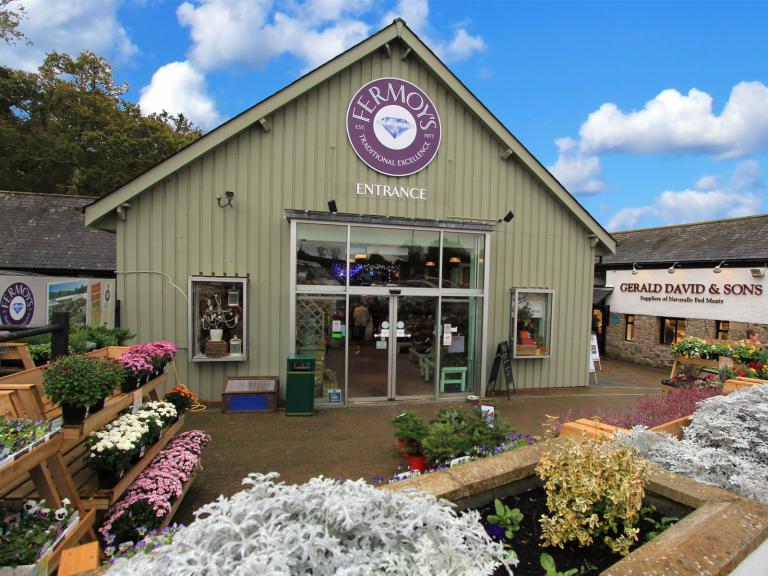 We've grown from a Pick Your Own working fruit farm in the 1970's to the large Garden Centre, Farm Shop and Cafe that you'll find today, and what a tremendous journey it's been! Visit us to explore the stylish new giftware section, the restyled plant area and our new Brown and Green Farmshop stocking a delicious choice of artisan food and drinks. Our plants are well cared for and our knowledgeable staff are always available for advice and help. We also stock a wide selection of BBQ's and Garden Furniture. We have a number of onsite concessions - The Butchers at Fermoys, Hollyhocks…
Find Out More