At Blue Diamond, we aim to bring you the best quality and freshest Christmas trees.
Sustainability and Environmental Benefits
Blue Diamond real cut Christmas trees have been grown specifically for use at Christmas and our trees have been farmed responsibly. That means that for every tree cut down another 3 saplings are planted. No woodland is compromised. These forests provide habitats for local wildlife, local jobs and help the environment too.
Real Christmas trees are natural and are 100% recyclable. After you and your family have enjoyed your tree and Christmas is over, it can be recycled, chipped into mulch for gardens or woodchips for paths. This means that your Christmas tree serves another useful purpose and as such has negligible or even negative Carbon Dioxide emissions. It is much better than sending it to landfill.
Storing Carbon Dioxide and releasing Oxygen
Real Christmas trees have the ability to store Carbon Dioxide. Release of Carbon Dioxide into the air can contribute to air pollution climate change.
Real Christmas trees capture and store Carbon Dioxide as they grow and release oxygen. A typical 6-foot tree takes approximately 6-9 years to fully grow. In a 9-year life cycle, a Nordmann Fir Christmas tree stores about 16 kg of Carbon Dioxide from the atmosphere.
On a Christmas tree farm, this works out at 13 tons of Carbon Dioxide per hectare, per year, which is twice as much as traditional deciduous forests.
The reason for the high Carbon Dioxide capture rate by Christmas trees is that they are grown close together as an agricultural crop. Each tree has several generations of needles – every year when a Christmas tree grows, a new generation of needles is added to the tree increasing the tree's Carbon Dioxide capture.
Trees that are fed with fertiliser are generally healthier and grow faster than non-fertilised or organic Christmas Trees. The speed of the growth of fertilised trees increases the Carbon Dioxide capture to approximately double that of non-fertilised and organic trees.
By capturing Carbon Dioxide, Christmas trees help to eliminate Greenhouse Effects.
Real Christmas trees also produce oxygen. Every hectare of trees produces enough oxygen for 45 people each day, for the lifetime of the tree
Netting
Blue Diamond are one of the first to move to Bio-degradable Christmas Tree netting

Last year Blue Diamond Garden Centres stopped offering the plastic Christmas Tree bags to reduce our unnecessary use of plastics, and this year Blue Diamond Garden Centres have secured the first stocks of VacuBioNet®, 100% Bio-degradable Christmas tree Netting.
This is the first truly eco-friendly tree netting to the Christmas tree market.
VacuBioNet® is made from PLA, (Polylactic acid) polyester yarn, typically sourced from renewable plant resources such as fermented corn starch, sugar cane, sugar beet pulp or cassava.
The good bit ….
It is a 100% natural polymer requiring 65% less energy and emitting 75% less harmful greenhouse gasses than the production of petroleum-based plastics which it is designed to replace.
The techy bit….
PLA will naturally break down by hydrolysis, thermal and photo-degradation, returning to the earth. It is compostable in commercial composting plants and completely bio-degradable.
Warning! VacuBioNet® is a unique product and must not be confused with other netting products manufactured from OXO-degradable plastic. Oxo plastics are merely conventional plastics derived from petrochemicals with added amounts of metal salts which enhance the break-down of the plastic into shorter polymer chains and eventually to Micro-Plastics which remain in and potentially harm the environment and endanger recycling and composting.
Transport
Our growers deliver Christmas trees to Blue Diamond Garden Centres direct from their Christmas tree farms so ensuring less miles are travelled and trees spend a minimum amount of time in transit which guarantees all trees in our centres are fresh and eco-friendly.
Our 2021 range of trees include: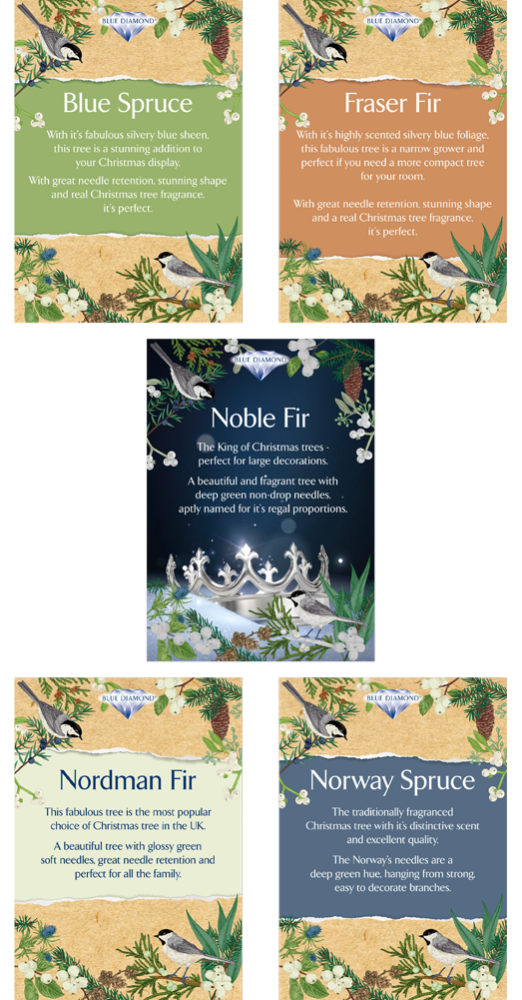 Tips to help your Christmas Tree last longer
Choose an appropriate location for your Christmas tree
Another important part of how to make a Christmas tree last longer is to choose a good location in your house. Place the tree away from heating vents or cold drafts. Constant heat or fluctuating temperatures can speed the drying out of a tree. Also avoid placing the tree in direct, strong sunlight. The sunlight can also make the tree fade faster.
Watering your Christmas tree
For best results we recommend you cut 1/4 of an inch off the bottom of your real Christmas Tree as soon as you bring it home (or more if you need to reduce the height of the tree). A simple straight cut across is all that is needed. Then pop your tree in a bucket of water until you are ready to decorate it. This will make it easier for your tree to soak up water.
Then, ideally, we recommend using a water holding stand for your tree and ensure this is kept topped up during the festive period. This will help your real tree last much longer and retain its needles.
What to do with your real Christmas tree after Christmas
Real trees are recyclable and can be shredded into chippings which are then used locally in parks or woodland areas. Remember to remove all tinsel and decorations and any pots or stands.
How can I recycle my tree?
1. You can recycle your tree and help a local charity with a small donation. Just enter your postcode to identify a local charity and register your tree for collection on https://just-helping.org.uk/register-tree.
2. Local authorities often arrange drop-off points or special collections of 'real' trees in early January and advertise the dates this will take place with any other changes to collections over the Christmas period. Check your local authority website for more information. You can find out details of your local authority, including their contact details, by entering your postcode into our Recycling Locator tool.
Artificial trees are made from a combination of materials and therefore cannot be recycled. Unwanted trees in good condition may be accepted by charity shops for re-sale and re-use.
We want to say THANK YOU to schools!
This year the Blue Diamond Group of Garden Centres are delighted to be able to donate a real Christmas tree to schools and colleges that are local to it's 37 centres.
These donations are made in recognition and thanks for the hard work and dedication of teaching, non-teaching staff and pupils alike in schools, especially those local to our centres, throughout this difficult and challenging year.
We will share with you some of the amazing stories and photos in the run-up to Christmas.
Keep an eye on our social media channels for more information