The 2018 Annual Blue Diamond Awards!
21st March 2019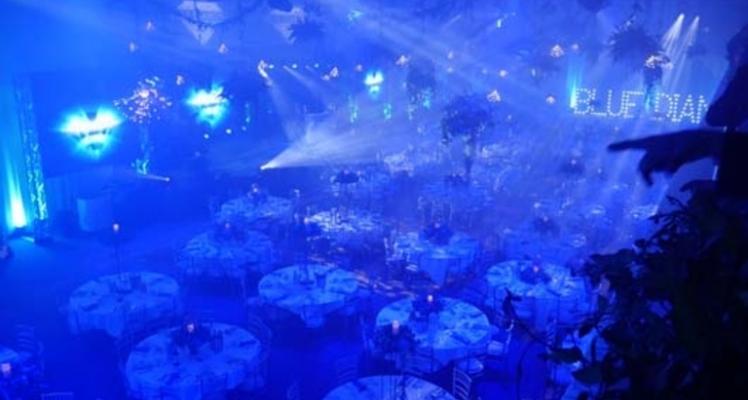 Oh what a night! We came together as a group on Tuesday 19th March and celebrated our annual awards at Chateau Impney in the West Midlands with Fermoys and Le Friquet winning the Acorn and Oak Cups for Blue Diamond Garden Centres of the Year. Trelawney and Redfields won the Blue Diamond Restaurant of the Year Awards and our Managing Director Alan Roper was presented with a special award to recognise his 20 years at Blue Diamond.
Over 500 staff from our 30 centres were joined by suppliers at the prestigious evening where winners were lauded across the group activities from Stock Management to Pastry Chef of the Year. Full list of winners below.
On receiving his special award from Chairman Simon Burke and Life President Geoffrey Dorey, Alan said: "I've thoroughly enjoyed every minute. There are 500 people in this room and there is a strong bond and strong connection between everyone of you. The energy, the sense of achievement and all being proud to work together as a great team. All I can do is lead, but you need a great team of people. Without exception you're just brilliant. Thank you."
Earlier in the evening Alan announced a new centre development had been agreed at Elevden in Suffolk with further developments in progress at Totley in the Peak District and Scotch Corner.
"The group increased like for like turnover by 33% to £128m excluding Wyevale acquisitions and East Bridgford in 2018 and projected sales for 2019 are £170m.
Full list of Blue Diamond Award Winners 2019:
Stock Management Award: 3 Shires
Home Award: Carol Spain - Fermoys and Sarah Thompson - Redfields
Christmas Award: Dennis Risdon - Trelawney and Matt Gouveia – Le Friquet
Visual Merchandising Award: Suzie Young – Redfields
Fashion Award: Helen Danning – Trelawney and Amanda Brown-Reed – St Peters
Garden Care & Décor Award: Julie Sills – Harlow and Clye Hooper – Le Friquet
Garden Features & Containers Award: Andrew Lloyd – 3 Shires
Wild Animals Award: Suki Crook – St Peters
Furniture & Outdoor Leisure Award: Tracey Uphill – Chatsworth and Matt Gouveia – Le Friquet
Seeds & Bulbs Award: Fergus Keating – Brambridge Park and Tina Luker – Trentham
Seasonal Plants Award: Martina Mallett – Matlock and Anna Lancaster – Redfields
Hardy Plants Award: Peter Shirley – Fryers and Gemma Woods – Derby
Indoor Plants Award: Katie Wardell – Newbridge and Kevin Fleming – Trentham
Best Garden Centre for Social Media Engagement: Grosvenor
Best Garden Centre for Customer Engagement and Loyalty: Fermoys
Customer Service Superstar: All Blue Diamond Customer Service Managers
Head Chef of the Year: John Waldron – Newbridge
Pastry Chef of the Year: Tracey Miller – Chatsworth
Restaurant of the Year: Trelawney and Redfields
Core Garden Centre of the Year, The Acorn Cup: Fermoys
Destination Garden Centre of the Year, The Oak Cup: Le Friquet.
The awards in each category were presented by the group specialist teams based on performance over the whole of 2018 against the Blue Diamond BPI measures.
Centres are grouped according to size with smaller "Core" centres grouped as Acorn and larger "Destination" centres as Oak.