February is the last month of winter, and frequently the coldest. It's the end of the dormant period for many plants, so the last opportunity to plant out perennials and fruit trees. Timing this is tricky, as the ground is sometimes too frozen to dig with a spade or garden fork. Even on days when it is too cold to work the soil, there is still time to finish pruning plants ready for them to start regrowing in spring.
What vegetables to plant in February
Some vegetables can be sown outside now, despite the cold weather of February:
Broad beans

Jerusalem artichokes

Lettuce

Onions

Pea shoots

Salad onions

Spinach

Spring cabbage

Summer cabbage
Other vegetable seeds need a bit of warmth, so should be started under glass. A windowsill or heated greenhouse is perfect:
Aubergines

Peppers (Chilli)

Peppers (Sweet)
What vegetables to harvest in February
There should still be plenty of vegetables to crop from the garden:
Broccoli
Brussels sprouts
Celeriac
Chard
Kale
Leeks
Lettuce
Parsnips
Swede
Parsnips will be full of flavour after a couple of months of cold weather. Freezing conditions bring out the sweetness in them - just make sure to harvest on a day without frost when you can get a garden fork into the ground!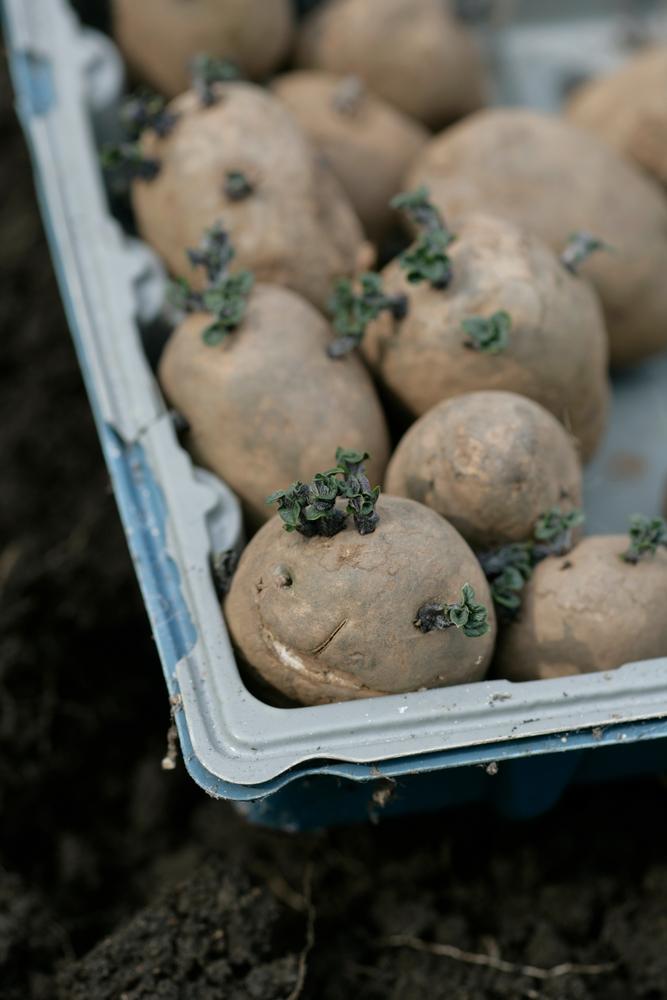 Vegetable plant maintenance in February
Check netting on brassicas to make sure that it is still secure. Birds – pigeons in particular – can shred unprotected greens very quickly. Stop them getting access by weighing or pinning down the edges of netting so that there are no entry points.
Jobs to prepare for the spring:
Potatoes - 'chit' these ready for planting in the spring. This means placing them in a light and warm place, such as a hallway or windowsill. This helps them to sprout before they are planted outside, giving them a head start when they are planted out next month. Use certified virus-free seed potatoes which are intended for growing.

Asparagus - add compost above each plant before it starts to produce spears.

Leeks - leave a last plant in the ground so that it flowers. Pollinators love leek flowers, and they are a large, beautiful ball shape. Once the seed head has dried out, the seeds can be saved for sowing.
Things to do this month
Remove heavy snow from shrubs and trees so that the weight does not snap any branches.
Clean and fill bird baths and feeders.
Create a wildlife pile. Add woody cuttings such as autumn raspberry canes, and other material from around the garden. Place the pile out of the way and leave room to add to it. It will provide welcome shelter for a range of garden visitors.
Create wormery. This is a great way to produce your own liquid fertiliser. A compact and attractive purpose-built wormery is a quick way of turning kitchen waste into something useful.
Clean and sharpening tools and other equipment.
Make a final check of seed stocks and ordering any that are missing.
Tidy and cleaning the greenhouse.
Repair garden structures, such as fences, sheds and pergolas.