Fryer's Roses Awarded Silver and Best Show Feature at Tatton Park 2016
8th August 2016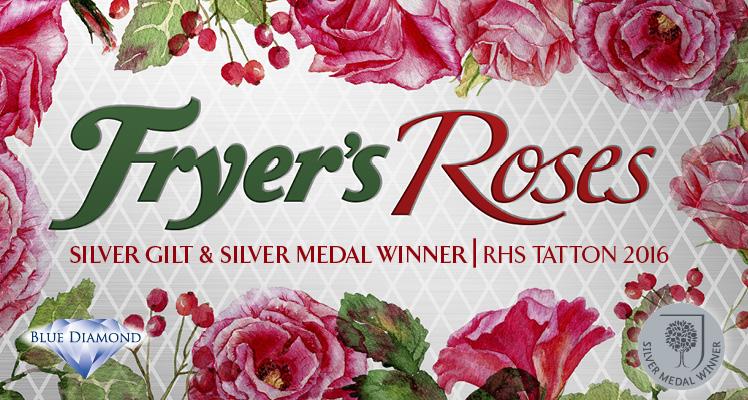 Fryer's roses, part of the Blue Diamond group of Garden Centres, was delighted to be awarded a Silver Gilt medal at last month's Tatton RHS for its feature in the Floral Marquee and a Silver medal for its Back to Back garden which also won Best Show Feature, as part of the Cheshire Gardens of Distinction group of gardens.
Bijal Mistry, the Store Manager at Fryer's Roses, who designed and built the display in the Floral Marquee along with Thomas McCullough (Garden Leisure Manager), said;
"I am delighted to achieve a Silver Gilt at Tatton RHS. The reception we received from the public with regards to the quality and variety of roses in the exhibit was also fantastic."
Peter Shirley, the Hardy Plant Manager at Fryer's, was equally thrilled with the success of his Back to Back garden;
"The public loved the combination of roses, lavender, thyme and perennials and even the Mayor of Knutsford and Lord and Lady Ashbrook of nearby Arley Hall, took the time to relax in the garden!"
For the first time, Fryer's also had a sales area in the Plant Village. This was a great success and received lots of visitors, who not only were able to admire the Ferris Wheel display (created by Bijal Mistry and Thomas McCullough), but were also able to buy roses and perennials, having taken inspiration from the displays created by Fryer's at the show.
Fryer's Roses are now looking ahead to next year's shows and are hoping to display at Chatsworth, Hampton Court and Tatton RHS.
Fryer's roses are available to buy from Fryer's Garden Centre, Manchester Road, Knutsford, Cheshire and in all other Blue Diamond Garden Centres.
Rose Catalogues are available by request from Fryer's Garden Centre, Tel: 01565 755455 or email webenquiries@bluediamond.gg.
All Blue Diamond garden centre Plant Managers are also available to give advice on garden planning and design throughout the year. If you have been inspired by the Fryer's Roses exhibits at Tatton RHS or at Hampton Court RHS this year, please contact your nearest Blue Diamond garden centre to make an appointment with the Plant Manager.
Selected garden centres are also run talks on gardening, please check in stores for details.
Click here to see Fryer's Floral Marquee
Click here to see Fryer's Ferris Wheel
Click here to see Lord and Lady Ashworth in Fryer's Back to Back Garden
Click here to see Fryers' Back to Back Garden with its Creator Peter Shirley and Mayor of Knutsford