Newton Apple's Tree Auction - The Winners!
25th October 2023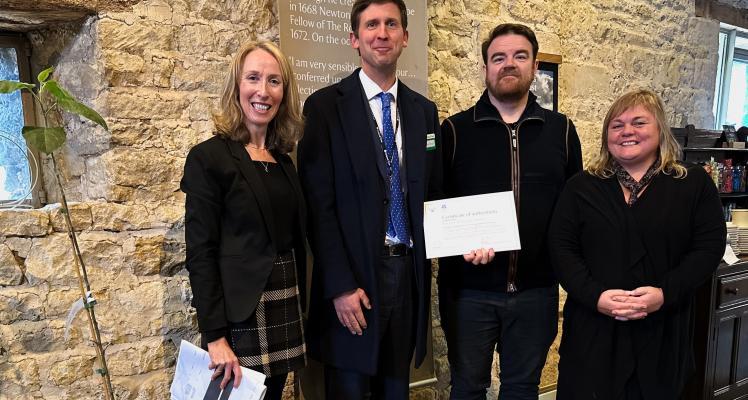 Europe's largest conservation charity, the National Trust and Blue Diamond Garden Centres auctioned ten saplings propagated from the apple tree that inspired Sir Isaac Newton's theory of gravity.
At a presentation ceremony, held at Woolsthorpe Manor, the childhood home of Sir Isaac Newton and where he formed the Theory of Gravity, the 10 winners were presented with their saplings.
Amongst the winners, is a distant descendant of Sir Isaac Newton, a local Lincolnshire resident who lives only 10 miles from Woolsthorpe Manor and the newly built Science, Technology and Research Centre at Haileybury College in Hertford. The winners had this to say about becoming custodian of one of the most significant trees in scientific history.
Simon Heard Deputy Master of Haileybury arranged the gift of one of the saplings, to the School, thanks to the generosity of a number of parents, and commented "We have just finished building a brand-new Science, Technology and Research Centre, where we hope pupils will learn about modern research as well as the great scientific discoveries, deductions, theories and advancements, which have taken place over the years, not least the theory of gravity.
"Having one of Sir Isaac Newton's very own Apple Tree descendants planted and then growing in the landscaped grounds seemed to be too good a chance to pass up! We are so excited that all future generations of pupils coming to the School will be able to work and study alongside such a significant piece of scientific history".