Fryer's come up Roses at 2017 RHS Shows
25th July 2017
Fryer's Roses, part of the Blue Diamond Group of garden centres, have had great success at this summer's RHS Flower Shows over the past two months.

The success started at RHS Chatsworth (7th – 11th June) with a 4 Rosette Award being given to the display in the Plant Village, designed and created by the team at Chatsworth Garden Centre.

This show also saw the launch of a brand new rose, "The Duchess of Devonshire", which is named on behalf of the Duchess. Fryer's Roses and Blue Diamond will be donating £1 from the sale of every "Duchess of Devonshire" rose to Helen's Trust, a charity nominated by the Duchess.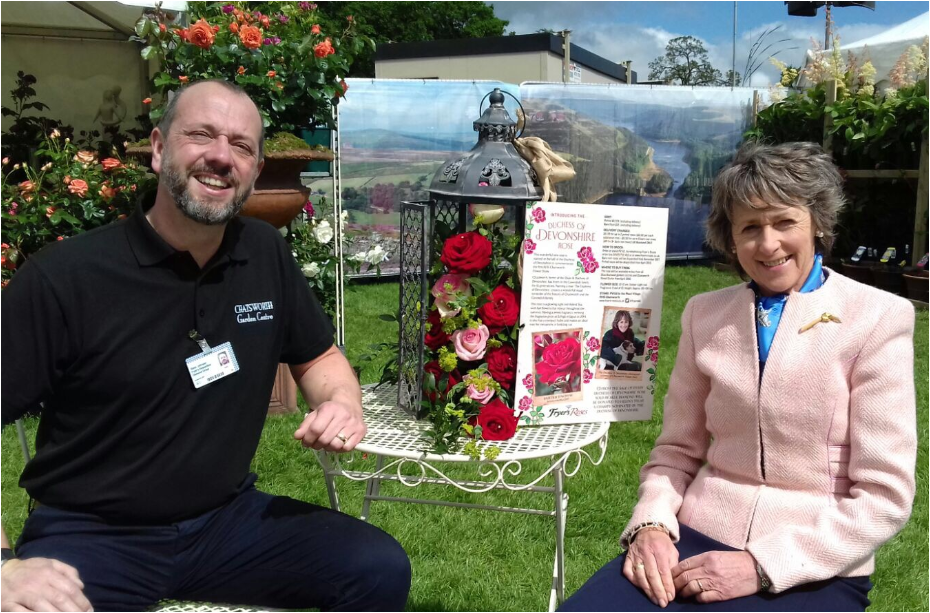 At RHS Hampton Court Flower Show (4th – 9th July), a Silver Gilt was awarded to the display in the Festival of Roses Marquee as designed by Adam Leverett from Redfield's Garden Centre, and created by staff from various Blue Diamond garden centres. 2 new roses were also launched at this show. One on behalf of the charity "Tree Aid", called "Little Angel", and another rose named "Hope for Justice" on behalf of the charity of the same name. Again £1 from the sale of each of these roses will be donated to the respective charities.

RHS Tatton Park Flower Show (19th – 23rd July) in Knutsford celebrated even more success with Fryer's Roses also being credited with another Silver Gilt Award for the display in the Floral Marquee as well as a 5 Rosette Award (the highest that can we awarded) for Fryers' display in the Plant Village.

Being a show local to Fryer's Roses, who are also based in Knutsford; Fryer's Roses were also proud to be able to launch a new rose called "The Mayor" on behalf of the former Mayor of Knutsford, Councilor Nicholson and the current Mayor of Knutsford. The former Mayor and current Mayor kindly attended at the launch. £1 from every sale of this rose will be donated to charities nominated by the Mayors.

Fryer's Roses are available to purchase from all Blue Diamond Garden Centres (subject to availability). For full details of all our roses, including the charity roses mentioned above, please visit our website at www.bluediamond.gg. To order online please visit www.fryers-roses.co.uk or by telephone Fryer's Roses on 01565 755455.