Blue Diamond at RHS Hampton Court 2022
28th June 2022
The Blue Diamond Group, the UK's second largest Garden Centre Group, is delighted to announce that it will be creating a Show Garden at this year's RHS Hampton Court Palace Garden Festival (4th to 9th July inclusive), and in addition will have a display of their own brand Fryer's Roses and selling area in the Festival of Roses Marquee.
The Blue Diamond Beautiful Abandonment Garden is a collaborative design by the team at Blue Diamond, inspired by Anna King, Lead Designer and project managed by Anna and Jill Kerr, the Group's Events Manager.
Anna King
Jill Kerr
The Garden includes a diversity of wild and cultivated plants to attract birds, bees, pollinators, other insects and mammals. Plants in the garden are UK grown with many coming from Blue Diamond's own Bridgemere Nursery based in Nantwich, Cheshire.
This garden celebrates the wonder of nature and the beauty of abandoned buildings. A wildlife friendly garden that focuses on taking a disused part of land and repurposing the structures left behind to create an outdoor living spaceespecially suitable for a family. An old farm building has left its mark in this garden, leaving behind a stone wall with original features, forming the backdrop to this repurposed space.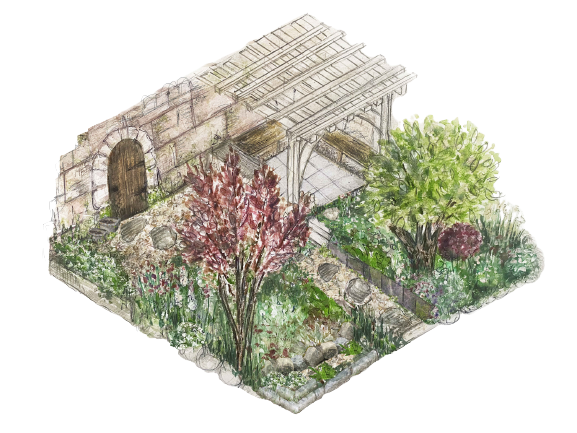 A bespoke pergola built from reclaimed oak, frames the family seating area, providing character, a sense of age & shade from the sun. The journey through the garden allows visitors to discover different view-points of the naturalistic planting with unintentional pockets and the architectural forms of the trees, stone and wooden structure.
This garden is designed with sustainability in mind as we move away from a throwaway society, demonstrating how abandoned buildings or unused areas can be repurposed into functional and beautiful spaces.
Blue Diamond's Charity Partner, the Soil Association, has also worked with the team at Blue Diamond to advise on and raise awareness of nature friendly gardening.
The Blue Diamond Group are also working closely with Bee Expert, Michael Thick and have installed 10 bee hives to date in Blue Diamond Garden Centres (2 each in Bicester, Harlow, Coton Orchard, Bridgemere and Springfields), with another 10 planned in 5 more of their centres. They hope to install live feeds in these centres from the hives, and will continue to educate visitors to their centres and website about bees and what they can do to help them.
Queen Bee Rose
In addition to the Garden, the Blue Diamond Group will relaunch the Queen Bee rose at the Show on behalf of the Soil Association. The Blue Diamond Group are the proud owners of their exclusive brand, Fryer's Roses which are grown at the Group's own Bridgemere Nursery, Nantwich, Cheshire in peat free compost and kerbside recyclable pots. The Queen Bee rose, along with a wide selection of other Fryer's roses, will be showcased at the Group's stand in the Festival of Roses marquee (FR 750), where it will also be available to buy or to order online at www.bluediamond.gg
£1 from each Queen Bee rose sold through Blue Diamond Garden Centres and Fryer's Roses online will be donated by the Blue Diamond Group to the Soil Association.