"Down Memory Lane" Show Garden at RHS Hampton Court
29th June 2021
The Blue Diamond Group to Create "Down Memory Lane" Show Garden at RHS Hampton Court Palace Garden Festival

The Blue Diamond Group, the UK's second largest Garden Centre Group, is delighted to announce that it will be creating a Show Garden at this year's RHS Hampton Court Palace Garden Festival (5th to 11th July), and in addition will have a display and selling area in the Festival of Roses Marquee.
Down Memory Lane Garden is a collaborative design by the team at The Blue Diamond Group inspired by the Father of the Lead Designer, who is living with dementia but has developed as a collective of stories and memories from Blue Diamond employees whose loved ones have experienced dementia in some way.
Anna King of the Blue Diamond Team and her Father
Alzheimer's Society has also suggested design elements of this garden based on guidelines and research around best practice, produced by Alzheimer's Society and other organisations such as the Dementia Services Development Centre at Stirling, to make it is as dementia-friendly as possible. The design has also incorporated feedback from a panel of people affected by dementia.
Down Memory Lane Rose
A rose of the same name will be launched at the Show on behalf of Alzheimer's Society and will feature in the garden. The rose will also be available to purchase from our stand in the Festival of Roses Marquee, or to order online at www.bluediamond.gg
£1 from each Down Memory Lane rose sold through Blue Diamond Garden Centres and Fryer's Roses online will be donated by the Blue Diamond Group to Alzheimer's Society.
Benefits of being in a garden and gardening to people living with dementia and their carers
Being in a garden and gardening are a known source of enjoyment for people living with dementia and their carers.
With 850,0000 people in the UK living with the condition (set to rise to 1 million by 2025), it has never been more important to increase awareness of the issues people with dementia may face on an everyday basis. Practical aspects of the design have been considered to ensure that people with dementia who may experience cognitive and mobility issues can enjoy outside space, which can be very important for wellbeing and quality of life.
The garden has been designed to help those living with dementia seek calmness as well as to provide stimulation of the senses.
Plants that are colourful with fragrant flowers to encourage bees and butterflies, lavender and other sensory plants are planted close to the edges of the path so that when they are brushed, they release fragrance. Herbs for tasting are clearly marked, and the colour of the garden is broken up with muted areas so that people don't feel too overwhelmed.
The potting shed is also a tool to trigger reflection and memories, and to encourage reminiscence of digging and being busy in the garden.
As depth perception can sometimes be impacted by condition, the handrail and wide, smooth pathways make mobility easier.
Raised flowerbeds also mean people don't have to stoop to look at plants up-close, so that people affected by dementia and the people that care for them can enjoy the calming power of nature.
The emblem of Alzheimer's Society, the forget-me-not, is present in the ditsy plants, a creative carving within the bench and a metal sculpture.
Alan Roper, Managing Director of the Blue Diamond Group said: "We have exhibited in many RHS shows over the years under our Fryer's Roses brand, however we are delighted to be able to have a show garden at RHS Hampton Court Palace Garden Festival and launch a new charity rose. We are proud of the work we do to support charities and Alzheimer's Society is one very close to my heart as my father lived with and ultimately died of dementia".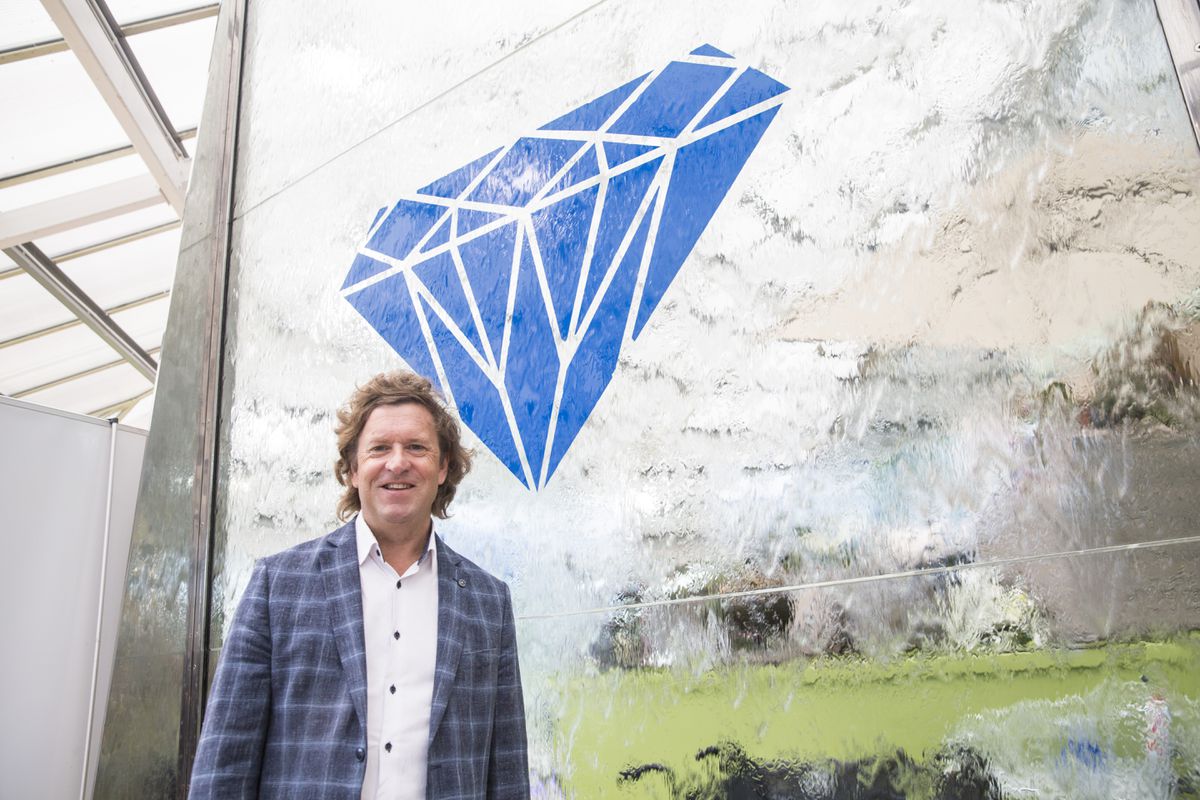 Alan Roper, Managing Director of the Blue Diamond Group
Tim Beanland, Head of Knowledge at Alzheimer's Society, said: "For people with dementia, being outside or in the garden and in nature is a brilliant way to excite the five senses, keep active and stimulate the mind. We were delighted to work with Blue Diamond for support on the design ideas for their dementia-friendly garden, and to see their vision transform an illustration into a beautiful garden is wonderful".
"The pandemic has been difficult for many people, but especially the 850,000 people living with dementia, with thousands experiencing an increase in symptoms due to multiple lockdowns. This is why we are urging everyone to head outdoors and take part in Memory Walk this Autumn to help provide vital support for those who need it most in the wake of the pandemic. For more information visit memorywalk.org.uk."

Editors notes:
1.For media enquiries, Jill Kerr at jill.kerr@bluediamond.gg
2. The Blue Diamond Group Team behind the Blue Diamond "Down Memory Lane" garden include Lead Designer Anna King Creative Visual Merchandiser at Blue Diamond. Alan Roper, Managing Director of Blue Diamond, James Nuttall Head of Plants, Jill Kerr Events Manager and Rose Category Manager.
3. Alzheimer's Society is the UK's leading dementia charity, who work to campaign for change, fund research into finding a cure, and support people living with dementia today. For support, information and advice about dementia, visit alzheimers.org.uk or call the Dementia Connect support line on 0333 150 3456.